Other wealthy individuals have also funded a series of reports into the future use of technologies to geoengineer the climate
A small group of leading climate scientists, financially supported by billionaires including
Bill Gates
, are lobbying governments and international bodies to back experiments into manipulating the climate on a global scale to avoid catastrophic
climate change
.
The scientists, who advocate
geoengineering
methods such as spraying millions of tonnes of reflective particles of sulphur dioxide 30 miles above earth, argue that a "plan B" for climate change will be needed if the UN and politicians cannot agree to making the necessary cuts in greenhouse gases, and say the US government and others should pay for a major programme of international research.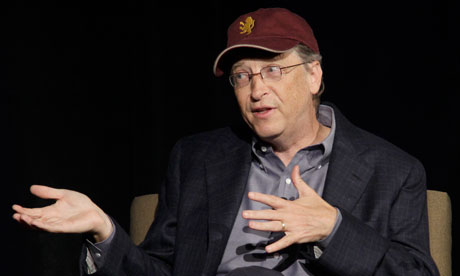 Bill Gates on the picture showing masonic M hand sign
Solar geoengineering techniques are highly controversial: while some climate scientists believe they may prove a quick and relatively cheap way to slow global warming, others fear that when conducted in the upper atmosphere, they could irrevocably alter rainfall patterns and interfere with the earth's climate.
Concern is now growing that the small but influential group of scientists, and their backers, may have a disproportionate effect on major decisions about geoengineering research and policy.
"We will need to protect ourselves from vested interests [and] be sure that choices are not influenced by parties who might make significant amounts of money through a choice to modify climate, especially using proprietary intellectual property," said Jane Long, director at large for the Lawrence Livermore National Laboratory in the US, in a paper delivered to a recent geoengineering conference on ethics.
"The stakes are very high and scientists are not the best people to deal with the social, ethical or political issues that geoengineering raises," said Doug Parr, chief scientist at Greenpeace. "The idea that a self-selected group should have so much influence is bizarre."
Pressure to find a quick technological fix to climate change is growing as politicians fail to reach an agreement to significantly reduce emissions. In 2009-2010, the
US government received requests for over $2bn
(£1.2bn) of grants for geoengineering research, but spent around $100m.