Egyptian security forces crushed the protest camps of thousands of supporters of the deposed Islamist president on Wednesday, shooting almost 200 of them dead in the bloodiest day in decades and polarizing the Arab world's most populous nation.
At least 235 people were killed in all, including at least 43 police, and 2,000 wounded, a health official said, in fierce clashes that spread beyond Cairo to towns and cities around Egypt. Deposed president Mohamed Mursi's Muslim Brotherhood said the death toll of what it called a "massacre" was far higher.
Interior Minister Mohamed Ibrahim said 43 police were among the dead. Security forces had completely cleared two protest camps in the capital and would not tolerate any further sit-ins, he said, vowing to restore Mubarak-era security.
Prime Minister Hazem el-Beblawi defended the use of force, condemned by the United States and European governments, saying the authorities had no choice but to act to end "the spread of anarchy".
"We found that matters had reached a point that no self-respecting state could accept," he said in a televised address.
The authorities imposed a dusk-to-dawn curfew in Cairo and several other cities including Alexandria, Egypt's second city on the Mediterranean coast.
The use of force prompted Mohamed ElBaradei, a former U.N. diplomat and the most prominent liberal supporter of Mursi's overthrow, to resign as vice president, saying the conflict could have been resolved by peaceful means.
"The beneficiaries of what happened today are those call for violence, terrorism and the most extreme groups," he said.
Thousands of Mursi's supporters had been camped at two major sites in Cairo since before he was toppled on July 3, and had vowed not to leave the streets until he was returned to power.
CHURCHES TORCHED
Outside of Cairo, state media said Mursi supporters had besieged and set fire to government buildings and attacked several churches. Christians, who make up 10 percent of the population of 85 million, have feared reprisals from Islamists since the Coptic Pope Tawadros endorsed the military takeover.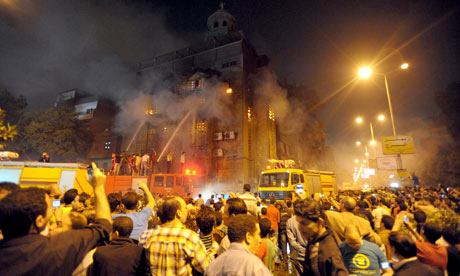 Among the dead in Cairo were at least two journalists. A Reuters photographer was shot in the foot.
At a makeshift morgue at the camp field hospital, a Reuters reporter counted 29 bodies, with others still arriving. Most had died of gunshot wounds to the head.
A 12-year-old boy, bare-chested with tracksuit trousers, lay out in the corridor, a bullet wound through his neck. His mother was bent over him, rocking back and forth and silently kissing his chest. One of the nurses was sobbing on her hands and knees as she tried to mop up the blood with a roll of tissue.
Adli Mansour, the judge appointed president by the army when it overthrew Egypt's first elected leader on July 3, announced a state of emergency for one month and called on the armed forces to help police enforce security. Rights activists said the move would give legal cover for the army to make arrests.
Turkey urged the U.N. Security Council and Arab League to act quickly to stop a "massacre" in Egypt. Iran warned of the risk of civil war. The European Union and several of its member countries deplored the killings.
Mursi became Egypt's first freely elected leader in June 2012, but failed to tackle a deep economic malaise and worried many Egyptians with apparent efforts to tighten Islamist rule.
Liberals and young Egyptians staged huge rallies demanding that he resign, and the army said it had removed him in response to the will of the people. Since he was deposed, Gulf Arab states have pledged $12 billion in aid, buying the interim government valuable time to try to put its finances back in order.
By late afternoon, the campsite where Mursi's supporters had maintained their vigil for six weeks was empty. One man stood alone in the wreckage reciting the central tenet of Islam through a loudspeaker: "There is no God but Allah."
He wept, and then his voice broke off into silence.