By Suan Duclos
Via the video below by Courageous Nerdz which leads to an article from the Guardian Express which claims the Mandela family finally admits Nelson Mandela was dead and they had received inside word back in June that he had passed away. Furthermore the family had been planning his funeral for over a year.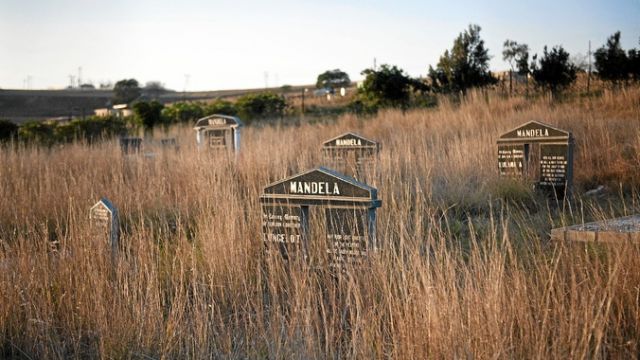 The Nelson Mandela family has finally given up their charade and admitted that Nelson Mandela is dead by announcing today that the former leader of South Africa is no longer with us. The charade began in June of 2013, and Guardian Express has maintained Mandela has been deceased since we were informed of his passing in June via one of our reporters embedded in South Africa. That reporter had received a text message from her close friend who works for the South African News which stated that Mandela had died the night prior. Since June, The Guardian Express has come under attack; first from a "denial of service" attack which shut the site down on and off for three days right after we published the news that Mandela had died. That denial of service attack was traced back to South Africa.
http://guardianlv.com/2013/12/nelson-mandela-family-finally-gives-up-charade-and-admits-mandela-dead/
I can't post the video just the link, you need to click the link to watch it:
http://www.youtube.com/watch?v=UCYySP484UM
The Guardian Express was also attacked by people denying that the Nelson Mandela family was carrying on a charade. However, we stood by and continue to stand by our account that Mandela was declared permanently brain dead with total organ failure in June of 2013. Now, today, the family has finally decided to give up their charade.
Was Mandela kept on life support while brain dead this entire time? Has this whole funeral been a charade implemented at this exact time so that world leaders could be in a place they considered "safe?"
Looks like the so-called conspiracy theorists might have been correct again.
A reliable source has revealed that Nelson Mandela's life support machine was shut down and he has died in the hospital aged 94. According to the source, the iconic Mandela died last night while he was still in the hospital for the recurring lung infection that left him in critical condition for several days.

Rumors have flooded the newspapers and the internet with several sources reporting his death days earlier in a cruel attempt to fool the public and to upset the many people who have respect for this great humanitarian. The loss of the great man will be felt across the world.

Earlier today one of our writers, Laura Oneale, wrote an article questioning whether or not Nelson Mandela was still alive. He had been in the hospital 19 days for a recurring lung infection. As speculation surrounding his health continued to grow with many asking whether he was still alive or if, in fact, he had died. Until recently authorities would only confirm that he was on a life support system and remained in a critical condition.

Authorities have confirmed that Nelson Mandela has been taken off his life support machine, adding fuel to the speculation that he had died. Because of this, the rumor has been spreading that Nelson Mandela died last night and that the government and his family have "kept a lid" on the news because of American President Obama's upcoming trip to South Africa. Obviously, the president's visit will be overshadowed by the announcement of the Nobel Prize winning Mandela.

The Nobel Prize winning humanitarian Nelson Mandela had his life support shut down after he died last night aged 94 at the end of a long battle with illness that ended with his hospitalization and finally his death. While his health problems started in 2011, it was the summer of this year when his condition worsened.

In February 2011, he was briefly hospitalized with a respiratory infection, attracting international attention. He was then re-hospitalized for a lung infection and gallstone removal in December 2012. After his successful medical procedure in March 2013 did not prevent his lung infection from recurring he was briefly hospitalized in Pretoria.

On June 8, 2013, his lung infection worsened and he was re-hospitalized in Pretoria in a serious condition. After four days, it was reported that he had stabilized and that he remained in a "serious, but stable condition".

While on his way to the hospital, the ambulance carrying Mandela broke down and was stranded on the roadside for 40 minutes. The South African government was criticized for the incident when it confirmed the report weeks later. President Jacob Zuma protested: "There were seven doctors in the convoy who were in full control of the situation throughout the period. He had expert medical care."

On June 22, 2013 CBS News reported that Mandela had not opened his eyes in days and that he was unresponsive. The family began discussing just how much medical intervention should be given.

On June 23, 2013 President Jacob Zuma issued a statement saying that Mandela's condition had become "critical." Zuma, who was accompanied by the Deputy President of the ANC, Cyril Ramaphosa, met with Mandela's wife Graca Machel at the hospital in Pretoria and discussed his condition.

On June 25, 2013, Cape Town Archbishop Thabo Makgoba visited Mandela at the hospital and prayed with Graca Machel Mandela "at this hard time of watching and waiting."

On June 26, 2013, Nelson Mandela was taken off life support after his condition deteriorated further. Sources have said that the 94 year-old Mandela died last night after his life support was shut down.

The Las Vegas Guardian Express writer Laura Oneale also wrote that in Qunu, the home town of Nelson Mandela, his family got together with the elders to discuss specific events surrounding the well-being of Mandela. It has been confirmed that they were talking about highly sensitive issues.

The grandson of Nelson Mandela angrily left the meeting over a disagreement of where the former president was to be buried. Mandela's daughter, who was seen wearing a red blanket, and other family members were at the gravesite. It has been reported that the "red blanket" is part of a tribal ceremony of the Xhosa. According to Xhosa custom the blanket is used when a family member has died.

Later in the same day, gravediggers arrived at the Mandela burial site.

Sources have confirmed that Nelson Mandela died last night after his life support was shut down and the respected iconic humanitarian has died age 94. Details of the funeral arrangements will be released when they become available.
Just check the date of all this sources that says Mandela is dead in June:
If Nelson Mandela died in june of 2013, then why are 91 world leaders going to his funeral in december?
OBAMA BUSH AND CLINTON GOING TOO?? WTH? SOMETHING IS
PROBABLY UP
THEN WE HAVE USA TODAY SAYING HIS FUNERAL IS DEC 15 2013. TEN DAYS FROM THE BIGGEST PAGAN WORSHIPPING IN EXISTENCE.
BUT WAIT A SECOND,....DIDN'T THE FUNERAL ALREADY HAPPEN TODAY??