'Barack Obama and his EU allies unveiled a co-ordinated set of sanctions on Thursday to punish Russia for occupying the Black Sea peninsula of Crimea, imposing visa restrictions on individuals and sharpening rhetoric in what has rapidly degenerated into the worst east-west crisis since the end of the cold war.
President Obama spoke for an hour on Thursday afternoon with his Russian counterpart, Vladimir Putin. According the White House, the US president told Putin that newly-announced sanctions, introduced in co-ordination with the UK, were a response to Russia's "violation of Ukraine's sovereignty and territorial integrity".
"President Obama indicated that there is a way to resolve the situation diplomatically, which addresses the interests of Russia, the people of Ukraine, and the international community." the White House said in a statement to reporters.'
"As a part of that resolution, the governments of Ukraine and Russia would hold direct talks, facilitated by the international community; international monitors could ensure that the rights of all Ukrainians are protected, including ethnic Russians; Russian forces would return to their bases; and the international community would work together to support the Ukrainian people as they prepare for elections in May."


In their first concrete response to Russia's move to seize Crimea from Ukraine, Brussels and Washington also warned of further sanctions such as asset seizures if Moscow does not relent in the standoff.

"I am confident that we are moving forward together, united in our determination to oppose actions that violate international law," Obama told reporters in Washington. "That includes standing up for the principle of state sovereignty."

After an emergency EU summit in Brussels, Angela Merkel said: "We have experienced very much disappointment in recent days and we're ready to act."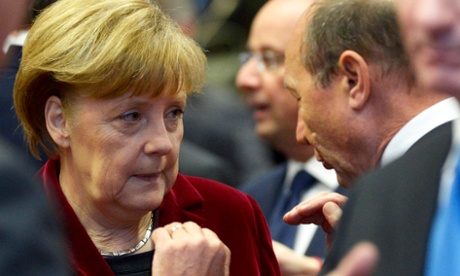 The urgency was heightened after the Crimean parliament abruptly – and unanimously – voted to secede from Ukraine and reposition the peninsula as part of Russia. It brought forward a referendum on secession to 16 March, but said such a vote would merely rubber-stamp its own decision. The sudden move elicited howls of protest from the new authorities in Kiev, and grave warnings from the west.
"The decision to hold a referendum in Crimea is illegal and not compatible with the Ukrainian constitution," said Merkel.
The White House said its visa bans will affect an unspecified number of Russian and Ukrainian individuals immediately, with the threat of asset seizures and bans doing business in the US hanging as a deterrent against further escalation in Ukraine. The EU agreed to suspend visa and investment talks with Russia and held out the prospect of a full-blown trade and economic conflict with Russia unless there was a diplomatic breakthrough.
"The solution to the crisis in Ukraine must be based on the territorial integrity, sovereignty, and independence of Ukraine," said the EU summit statement. "It would be a matter of great regret if Russia continued to refuse to participate in a productive dialogue with the government of Ukraine."
The EU said Moscow had to open negotiations with Kiev "within the next few days, and produce results within a limited timeframe".
We gonna see how Russia will response?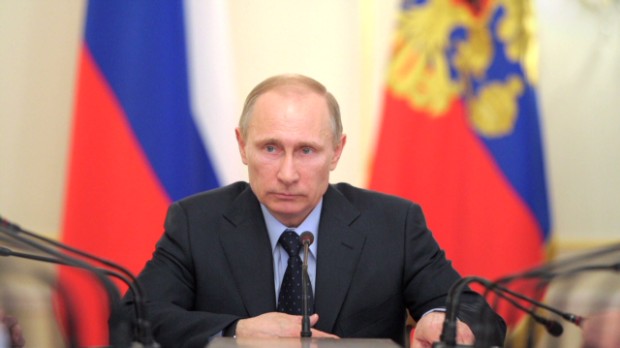 If Russian do the same and will do. This will back fire to US and EU.
Russia sanctions to US will be the end of the dollar and their economy!!!
So global economic collapse to US and EU is coming very soon...
Source:
http://www.theguardian.com/