Prior to World War I, nearly all psychiatrists worked in mental institutions, where they dealt with the committed and insane. But they were really just caretakers; they didn't cure anyone. In fact, in those institutions, the "inmates" were very often subjected to cruel and inhumane psychiatric experimentation, and much of it was inflicted upon them to keep them quiet, not make them better.

When the Great War broke out, psychiatry made its first foray into the military. For example, in Germany, soldiers who were unwilling to return to the hellish trench warfare at the front were subjected to what was called the "Kaufman Cure." It was anything but a cure, however; it was a procedure that involved shooting painful electrical currents through the soldier's body while a practitioner intoned hypnotic suggestions. Its victims rightly deemed it a form of torture, but the Kaufman Cure was widely seen as successful by psychiatrists because it did indeed induce terrified soldiers to return to the front lines, and in a rush.


'We must aim to make psychiatry permeate all of society'

By the time World War II began, psychiatrists had forged established paths into the militaries of many nations. And it was through the military that psychiatrists finally achieved newfound status as "medical doctors." But influence over the psychology of the military was just a small fraction of what psychiatrists had planned.

On June 18, 1940, Brig. Gen. J. R. Rees, a psychiatrist, stood before the Annual Meeting of the National Council for Mental Hygiene to outline psychiatry's ambitions for the future:

"We must aim to make it [psychiatry] permeate every educational activity in our national life... Public life, politics and industry should all of them be within our sphere of influence."

In order to reach that objective, he said, psychiatrists would need to find the perfect proving ground: One with an unlimited budget that could continue to grow; one with an endless supply of human resources, where every order is obeyed and no questions are asked; and one where any collateral damage could be hidden as "classified."

As an Army general, Rees knew exactly where this proving ground could be, and he even said so himself: "The Army and the other fighting services form rather unique experimental groups since they are complete communities and it is possible to arrange experiments in a way that would be very difficult in civilian life."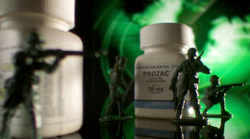 It was as shrewd as it was bold, especially when it was being sold under the guise of "help." So the infiltration by the psychiatric community into the military continued, unabated. By 1943, psychiatry had penetrated so deeply into the American military that the U.S. Navy's top psychiatrist, Rear Adm. Francis Braceland, boasted, "Psychiatry now has a place in every step of the Navy man's career from his induction to his eventual separation from the service."

In 1945, prior to the war's end, the chief military psychiatrist, Brig. Gen. William Menninger, authored a manual that listed all of the mental problems he believed soldiers could have. But none of his conclusions were based on any scientific tests or results; there were no blood tests or X-rays to verify any of his claims, nor was there anything observable under a microscope.

They were just his opinions.

High rates of prescriptions, high rates of suicides

Few in the military psychiatric community seemed to mind, however, because the Menninger manual provided a veneer of legitimacy to the field -- something they needed in order to diagnose and "treat" ever more service members.

The manual become so widely used that it later became the foundation for psychiatry's "bible," the Diagnostic and Statistical Manual of Mental Disorders, or DSM. And today, the book lists an astounding 374 mental "disorders" within its nearly 1,000 pages -- and it still is no more scientific than Menniger's initial small manual.

Fast-forward to today.

The U.S. military has been experiencing its highest-ever suicide rates for the past several years, and finally, a new documentary film lays bare not only the history behind psychiatry's infiltration of the military but also the dangerous and deadly effects of that infiltration, particularly in the form of increasing rates of psychotropic drug-induced suicide, which the Pentagon has labeled an "epidemic."

The film, The Hidden Enemy: Inside Psychiatry's Covert Agenda, produced by the Citizens Commission on Human Rights (CCHR), details psychiatry's rise in the military, including the sinister conspiracy to use men and women in uniform as nothing more than guinea pigs.

Watch it online here.

Sources:

http://www.naturalnews.com

http://www.cchr.org

http://www.naturalnews.com

http://science.naturalnews.com

http://www.naturalnews.com/044838_military_suicides_psychiatry_secret_experiment.html#ixzz2zjCdWdsG