Metal studs installed to stop homeless people from sleeping outside private flats in London have been described as "brutal" by a homelessness charity.
Residents at the block on Southwark Bridge Road said they appeared a few weeks ago after someone had been sleeping rough there.
In reaction, Howard Sinclair, Chief Executive of St Mungo's Broadway, said: "Each year our teams, in Southwark and elsewhere, help thousands of people off the streets.
"Part of their role is to prevent people adopting a street lifestyle which, on occasions, means adapting the physical environment to prevent people sleeping rough in a particular location on a regular basis. These 'studs' appear a rather brutal way of doing just that."
Its not clear who ordered them and if they are solely to deter rough sleepers but their installation has sparked an angry reaction.
Emi Takehara lives in the block and told Sky News: "I feel really uncomfortable having these spikes in front of my home. It's like treating these homeless people like animals."
Andrew Horton spotted the studs on his way to work and posted pictures of them online.
It is split opinion on Twitter.
David Wells wrote: "These Anti homeless studs are like the spikes they use to keep pigeons off buildings. The destitute now considered vermin."
Others, including Gavin Logan defended the installation, tweeting: "There will be a context behind those anti-homeless spikes. Possibly a last resort against someone who was aggressive and refused housing."
Homelessness charities say this is not a one-off, metal studs have been appearing across the country for the last decade as the number of people sleeping rough rises.
The management company has not been available for comment but Councillor Peter John, leader of Southwark Council, issued a statement confirming the council is not responsible.
He added: "The council can look into health and safety or planning concerns that are reported to us.
In Canada, it has been estimated that there are 150,000 homeless people, but the Canadian Alliance to End Homelessness (CAEH) says that estimate is low. It is possible as much as three per cent of the population, or one million people, is absolutely homeless — meaning they 'sleep rough' in public parks or other areas. Even more people are considered part of the 'hidden' homeless population - those who "couch surf" and have no permanent home.
The CAEH released a study in 2012 with an aim on ending homelessness, focusing on finding and creating permanent housing for homeless people. The report found that social housing actually costs a community much less than leaving a person homeless, or putting them in institutions or even emergency shelters.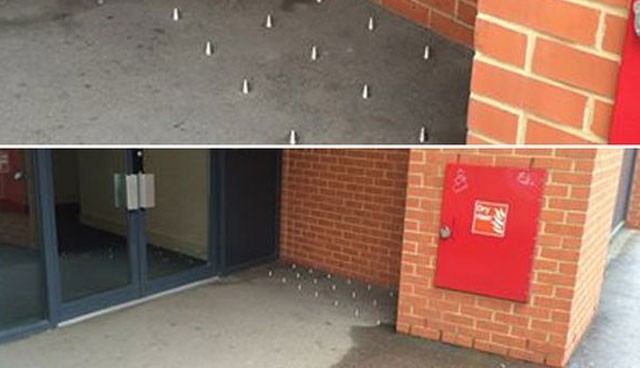 The Federation of Canadian Municipalities similarly considers homelessness a key issue and last year launched a campaign to address Canada's housing shortage. More than 160 communities have already passed resolutions to support the campaign.
Despite the efforts to address the issue, there seems to be an underlying sense in society that homelessness can be dealt with by pushing it down the street.
In America, cities are taking more and stronger steps against assisting homeless populations.
According to a recent report from Vice News, at least 33 U.S. cities passed new restrictions on feeding homeless people between January 2013 and April 2014.
https://uk.news.yahoo.com/metal-studs-treat-homeless-animals-035427387.html#1CV2KAn