The State Department is "profoundly troubled" by a recent video purportedly showing a beating by Israeli paramilitary police

A 15-year-old American high school student who says he was brutally assaulted by Israeli police was released by a Jerusalem court today after being held without charges since his arrest on Thursday.


A video clip aired by Palestinian television shows two Israeli police officers appearing to viciously beat Tariq Abu Khdeir, a rising sophomore from Tampa, Florida. They repeatedly stomp and punch his head, even as the body hangs motionless.


The police have not denied it is their men beating Abu Khdeir. A spokesman told ABC News the teen was part of a small group participating in clashes with armed police, covering his face with a keffiyeh (Palestinian scarf) and attacking officers while resisting arrest.

"I was watching [the clashes], I was just watching," Abu Khdeir told ABC News shortly after his release, his face still bruised and swollen from the assault.

The U.S. is asking for a "a speedy, transparent and credible investigation" into the alleged beating of a Palestinian-American teenager by Israeli police during riots in East Jerusalem earlier this week.

The Israeli Justice Ministry says it is investigating the incident after an online video clip appeared to show two Israeli police attacking and kicking a young person wearing a mask or head covering before dragging him away, Reuters reports. Although the target's identity has not been identified or confirmed because his face is obscured and the quality of the footage is low, the family of 15-year-old Tariq Khdeir, who was visiting from Tampa, Fla., said their teenager was the victim.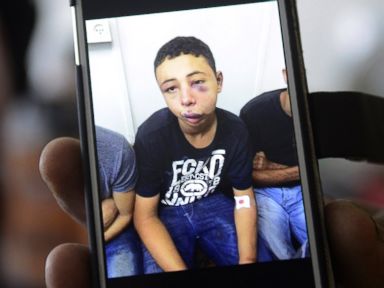 Recent pictures of Khdeir show him with a black eye and a swollen face, injuries the high school sophomore's family said he sustained while being taken into police custody in the video. Addameer, a Palestinian human rights organization, said Khdeir was detained without charge between July 3 and July 6 and denied medical treatment for hours. The organization also said he was released on bail on Sunday and will serve nine days of house arrest at his uncle's home in Jerusalem.

Khdeir is the cousin of Mohammed Abu-Khdeir, a Palestinian teen whose burned body was discovered Wednesday, sparking a number of riots and protests. Palestinians believe Khdeir was killed out of apparent revenge for the abduction and murder of three Israeli teenagers, and Israeli authorities arrested a number of Jewish suspects Sunday.

Source:

http://abcnews.go.com/International/american-teen-allegedly-beaten-israeli-police-released-jail/story?id=24442075

http://time.com/2959642/israel-palestine-tariq-khdeir/