More than two and a half millennia ago, the Assyrian King Senaccherib descended on his enemies "like the wolf on the fold," as the Bible tells us—and asLord Byron wrote in cantering cadences memorized by countless Victorian schoolchildren: "His cohorts were gleaming in purple and gold; And the sheen of their spears was like stars on the sea."




The Assyrian and Babylonian empires appear throughout the Old Testament as examples of ruthless grandeur and godless decadence. The Bible says Sennacherib's army was destroyed by the Angel of the Lord. The Israelites were carried off to Babylon, where they wept by the waters. And since the middle of the 19th century, archeologists have labored mightily to unearth the mythical and the verifiable past in the extraordinary cradle of civilizations they used to call Mesopotamia and now call Iraq.

No trace ever has been found of the Garden of Eden, said to have lain near the confluence of the Tigris and Euphrates, but one of the great prizes the excavators did discover was Senaccherib's capital, Nineveh, which the biblical prophet Nahum called "the city of blood, full of lies, full of plunder, never without victims!"


Last month, a new marauder descended on Nineveh and the nearby city of Mosul. He, too, came down like the wolf on the fold, but his cohorts brandished Kalashnikovs from pickup trucks, not shining spears; their banners were theblack flags of the Islamic State of Iraq and the Sham.

Soon afterward the minions of the self-appointed caliph of the freshly self-declared Islamic State,Abu Bakr al-Baghdadi, paid a visit to the Mosul Museum. It has been closed for years for restoration, ever since it was looted along with many of Iraq's other institutions in the wake of the culturally oblivious American-led invasion of 2003. But the Mosul Museum was on the verge of reopening, at last, and the full collection had been stored there.




"These groups of terrorists—their arrival was a brutal shock, with no warning," Iraqi National Museum Director Qais Hussein Rashid told me when he visited Paris last week with a mission pleading for international help. "We were not able to take preventive measures."

Indeed, museum curators and staff were no better prepared than any other part of the Iraqi government. They could have learned from al-Baghdadi's operations in neighboring Syria that a major source of revenue for his insurgency has been the sale of looted antiquities on the black market. As reported in The Guardian, a windfall of intelligence just before Mosul fell revealed that al-Baghdadi had accumulated a $2 billion war chest, in part by selling off ancient artifacts from captured Syrian sites. But the Iraqi officials concerned with antiquities said the Iraqi intelligence officers privy to that information have not shared it with them.




The photographs of the destruction "were part of an online statement titled 'Demolishing shrines and idols in the state of Nineveh.'" Ordinarily under Islamic law churches and other non-Muslim houses of worship of the "People of the Book" would be allowed to exist as long as the non-Muslims paid jizya to the Islamic state. Shi'ite mosques and shrines of various types would generally be allowed as well, as long as those involved were likewise submissive. To demolish shrines and Shi'ite mosques as idolatrous and to occupy churches, removing the crosses, is excessively fanatical and will alienate the Islamic State from Muslim support it might otherwise have received — although the Islamic State may be behaving this way because it considers the various groups whose houses of worship these are to be kuffar harbi, Infidels at war with Islam, who thus forfeit all rights. We shall see.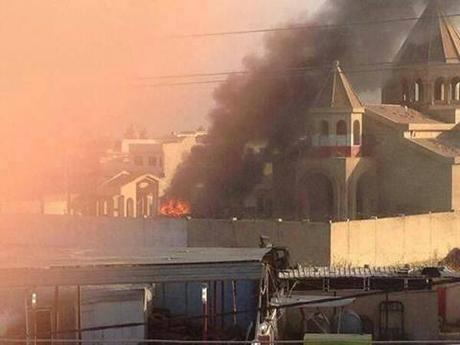 "ISIS destroys shrines, Shiite mosques in Iraq," AFP, July 5, 2014:


Jihadists who overran Mosul last month have demolished ancient shrines and mosques in and around the historic northern Iraqi city, residents and social media posts said Saturday.

At least four shrines to Sunni Arab or Sufi figures have been demolished, while six Shiite mosques, or husseiniyahs, have also been destroyed, across militant-held parts of northern Nineveh province, of which Mosul is the capital.

Pictures posted on the Internet by the Islamic State of Iraq and Syria (ISIS) showed the Sunni and Sufi shrines were demolished by bulldozers, while the Shiite mosques and shrines were all destroyed by explosives.

The photographs were part of an online statement titled "Demolishing shrines and idols in the state of Nineveh."

Local residents confirmed that the buildings had been destroyed and that militants had occupied two cathedrals as well.

"We feel very sad for the demolition of these shrines, which we inherited from our fathers and grandfathers," said Ahmed, a 51-year-old resident of Mosul.

"They are landmarks in the city."

An employee at Mosul's Chaldean cathedral said militants had occupied both it and the Syrian Orthodox cathedral in the city after finding them empty.

They removed the crosses at the front of the buildings and replaced them with the Islamic State's black flag, the employee said.

ISIS-led militants overran Mosul last month and swiftly took control of much of the rest of Nineveh, as well as parts of four other provinces north and west of Baghdad, in an offensive that has displaced hundreds of thousands and alarmed the international community.

The city, home to two million residents before the offensive, was a Middle East trading hub for centuries, its name translating loosely as "the junction."

Though more recently populated mostly by Sunni Arabs, Mosul and Nineveh were also home to many Shiite Arabs as well as ethnic and religious minorities such as Kurds, Turkmen, Yazidis and other sects.

Source:

http://www.thedailybeast.com/articles/2014/07/07/isis-is-about-to-destroy-biblical-history-in-iraq.html
http://www.jihadwatch.org/2014/07/iraq-islamic-state-destroys-shiite-mosques-occupies-cathedrals-replacing-crosses-with-black-flag-of-jihad