A BOLD STATEMENT ABOUT THE MAN NEWSWEEK CALLED THE "FIRST GAY PRESIDENT"
Comedienne Joan Rivers made the outrageous shock claim today that it is a well-known "secret" that Barack Obama is gay and Michelle is a "tranny". Ms. Rivers did not appear to be joking at the time she made her statement.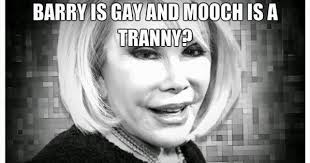 Allegations of Barack Obama's alleged homosexuality made the news last year when a high school classmate of his from Hawaii came forward and revealed intimate details of alleged gay sex and cocaine incidences she says were well known at the time. Allegations that Michelle Obama used to be a man named Michael LaVaughn Robinson have persisted for many years now. Newsweek magazine last year famously called Obama the "first gay president" on their cover.
http://www.nowtheendbegins.com/blog/?p=23151