Archaeologists in
Greece
have discovered a vast tomb that they believe is connected with the reign of the warrior-king Alexander the Great, who conquered vast swathes of the ancient world between Macedonia and India.
The tomb, dating to around 300 BC, may have held the body of one of Alexander's generals or a member of his family. It was found beneath a huge burial mound near the ancient site of Amphipolis in northern Greece.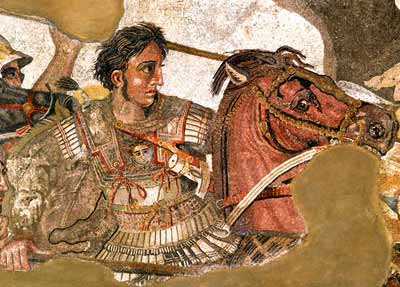 A broad, five-yard wide road led up to the tomb, the entrance of which was flanked by two carved sphinxes. It was encircled by a 500 yard long marble outer wall.
The experts
ruled out the possibility that the tomb could be that of Alexander - the emperor is believed to have been buried in Egypt after he died of a fever in Babylon in 323BC.
Archaeologists, who began excavating the site in 2012, hope to fully explore the tomb by the end of the month to determine exactly who was buried there. The site is being guarded by police while archaeologists continue their excavations.
Catherine Peristeri, the head of the ancient monuments department in northern Greece, said some of Alexander's generals and admirals had links to the area around the ancient city of Amphipolis. It was also the place where his wife, Roxana, and son, were killed in 311BC by Cassander, a Macedonian general who fought over the empire after Alexander the Great's death.
Situated about 65 miles northeast of Greece's second-biggest city, Thessaloniki, the tomb appears to be the largest ever discovered in Greece.
It probably belonged to "a prominent Macedonian of that era," a culture ministry official told Reuters.
The tomb, which consists of white marble decorations and frescoed walls, was partially destroyed during the Roman occupation of Macedonia.
Amphipolis was founded as an Athenian colony in 437 BC but conquered by Philip II of Macedon, Alexander's father, in 357 BC.
Alexander the Great single-handedly changed the history of the ancient world with a lightning pace of conquest. Born in Pella, the ancient capital of Macedonia in 356 BC, he was educated by the philosopher Aristotle. When his father was assassinated in 336 BC, Alexander set about consolidating his hold on the kingdom of Macedonia before embarking on the conquest of the powerful Persian Empire.
He led his army to victories across Asia Minor, Syria and Egypt, establishing an empire that eventually stretched from the Danube to the frontiers of India.
If you ask me this is not a tomb of Alexander III of Macedon but could be of some of his generals.
http://www.telegraph.co.uk/news/worldnews/europe/italy/11029251/Vast-tomb-unearthed-in-northern-Greece.html