All The Progress Made On Marijuana Legalization Could Vanish

With A New President.
The movement to end marijuana prohibition has made significant progress recently, but it could all be undone when the next president takes office in 2017.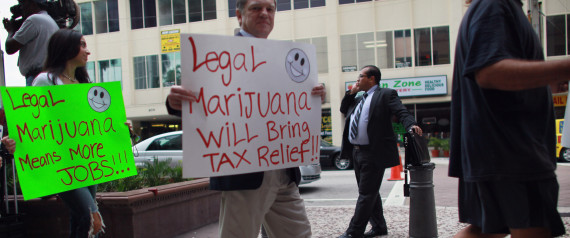 Harvard economist Jeff Miron, a vocal supporter of marijuana policy reform, highlighted the precarious nature of state marijuana laws in a Wednesday op-ed for CNN on why Congress needs to act now on federal marijuana policy.
"Despite the compelling case for legalization, and progress toward legalization at the state level, ultimate success is not assured," Miron wrote. "Federal law still prohibits marijuana, and existing jurisprudence (Gonzales v. Raich 2005) holds that federal law trumps state law when it comes to marijuana prohibition. So far, the federal government has mostly taken a hands-off approach to state medicalizations and legalizations, but in January 2017, the country will have a new president. That person could order the attorney general to enforce federal prohibition regardless of state law."
That's because the regulation of marijuana -- as seen in programs currently in place in Colorado and Washington state, as well as those that will soon go into effect inOregon, Alaska and Washington, D.C. -- remains illegal under the 1970 Controlled Substances Act. The states that have legalized marijuana have only been able to do so because of federal guidance urging federal prosecutors to refrain from targeting state-legal marijuana operations. That guidance could be reversed when a new administration enters the White House.
"Both Miron's analysis and conclusion are spot on," Rep. Earl Blumenauer (D-Ore.) told The Huffington Post. "The federal government needs to end the failed prohibition of marijuana by rescheduling or removing it from the list of controlled substances. Too many lives are ruined and futures cut short by these outdated and wasteful policies."
Blumenauer is just one of a number of lawmakers from both parties who have worked toward that end. About a dozen bills were introduced in 2013, several by Blumenauer himself, aimed at limiting the federal government's ability to interfere with states' legal marijuana programs. Last year, Rep. Jared Polis (D-Colo.) introduced theEnding Federal Marijuana Prohibition Act, which would direct the U.S. Attorney General to issue an order that removes marijuana in any form from all schedules of controlled substances under the Controlled Substances Act. If passed, Polis' measure would effectively end the federal government's prohibition of marijuana.
And while Congress has failed to pass any of those bills, attitudes are still changing rapidly on marijuana policy. Ethan Nadelmann, executive director of the Drug Policy Alliance, said he remains cautiously optimistic about marijuana legalization being here to stay, despite Congress' tendency to move slowly on controversial social issues like this.
"It's all political," Nadelmann told HuffPost in an email. "Of course it's possible that the next president could decide to crack down on the states that have legalized marijuana but that prospect becomes ever less likely with every passing day."
"Diverse sectors of society are developing a stake in marijuana remaining legal," he continued. "Taxpayers and tax collectors enjoy the revenue. Cost cutters appreciate the savings from no longer arresting so many people for marijuana. Unions welcome the new legal jobs. Businessmen, including many who vote Republican, relish the actual and potential profits."
http://www.huffingtonpost.com/2014/11/19/marijuana-legalization_n_6186574.html?utm_hp_ref=tw