We see it every year now, senseless shoppers waiting hours, and in some cases days, to get the deals they want they day after Thanksgiving known as Black Friday.
However the chaos is not limited only to the United States, London shoppers joined in on the action this year, fighting over cheap panties and lingerie.
While storekeepers and businesses ramped up their security specifically for this reason, at least three arrests have already been made in the United Kingdom as "Metropolitan Police officers were called to three Tesco stores in London in the early hours of the morning amid fears of confrontations in heated queues.", according to The Independent.
Although the problem isn't limited to the U.K. obviously. Another chaotic scene took place at an Urban Outfitters store in the U.S. when the front door was opened to shoppers.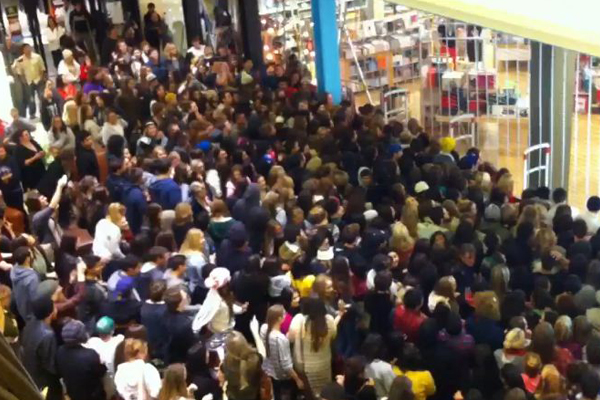 Right on cue, American's mob mentality continues. Year after year America starts the Christmas season off with gangs of people rushing to get Black Friday deals. They trample each other, beat each other and start small roits just to save a few bucks on Black Friday deals.

What would happen if diseaster struck slowing food supplies or in a grid down espisode? It's sad to watch America decay to this level. Our country is being divided right before our very eyes and the American people continue to feed right into it.

I am unable to name the town where this mall beating took place, but it happened right as the mall open at midnight.
To make it more interesting the Missouri Army National Guard along with state and local police patrolled the Walmart in Ferguson where riots have already taken place this week in hopes of stopping any looting or violence, likely costing taxpayers tens of thousands of dollars.
YouTuber Mark Dice even chimed in on the subject as usual, passing consumers by in his vehicle while shouting through a bullhorn things like:
"You are a disgrace to Christmas [...] "lined up like a bunch of animals".
"Buy a bigger flat screen so you can detach yourself further from reality [...] "shame on you all", Dice carried on getting a few responses from the crowd in a YouTube stunt.
More Walmart madness. This time in Michigan City, Indiana…
And the madness doesn't stop…
Again…
A man even gets tased in the chest by Walmart security…
Source:
http://www.intellihub.com/black-friday-chaos-ensues-videos/
http://beforeitsnews.com/alternative/2014/11/black-friday-flash-mob-mall-riots-2014-video-3069094.html?utm_campaign=&utm_medium=facebook-share&utm_content=awesm-publisher&utm_source=https%3A%2F%2Fwww.facebook.com%2F&utm_term=http%3A%2F%2Fb4in.info%2FpjK3