These four McDonald's workers shared their monthly budgets to show how their spending stacks up to the controversial McDonald's sample.
A budget planning guide from McDonald's for its employees, shown above, caught flak this past week for being out of touch. For starters, it didn't account for food and gasoline. The second line on the sample budget leaves room for income from a second job, which many called an admission by the fast food giant that its workers can't live on its wages alone.
McDonald's

said in a statement that the sample is a generic example and is intended to provide a general outline of what an individual budget may look like.
Four real McDonald's workers shared their budgets with us, shedding light on how far their wages actually go.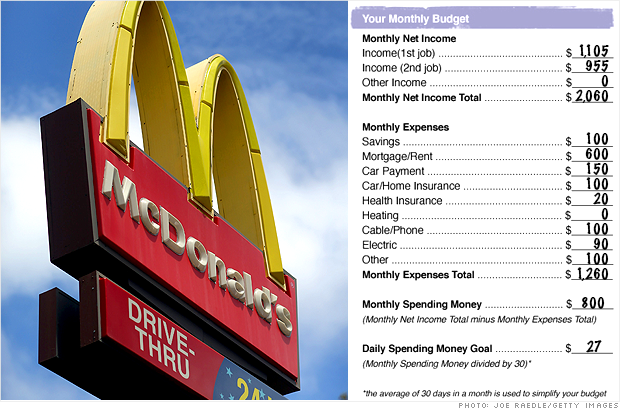 Devonte Yates, 21, is working to get an Associate's Degree in criminal justice and logs in about 25 hours a week at a McDonald's in Milwaukee. To cut down on costs, he lives with his mom and little sister. Still, he struggles to pay his $180 tuition bill each month. He's only able to pay about $90.
He said that the school is more forgiving of him not paying his bill in full while he is still taking classes. But when he graduates next semester, he is worried about how he's going to pay it back.
Besides tuition, some of Yates' expenses that fall under the "other" category are $40 per month for contact lenses and $50 on clothes. Food, at $300, is his biggest monthly expense, as it is for most of the other workers interviewed.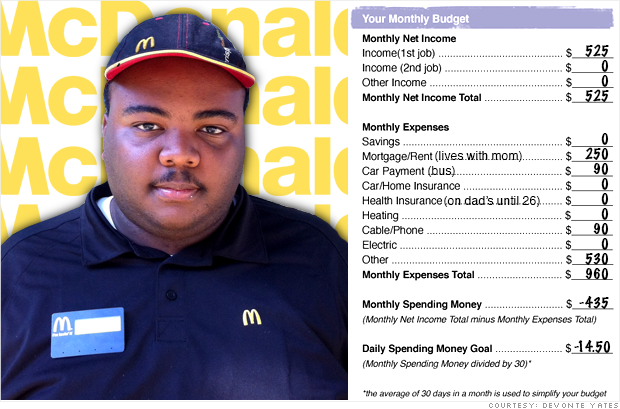 It's been near impossible for Christopher Drumgold to raise two kids while making $7.40 an hour at McDonald's. His kids attend a Detroit charter school that doesn't have a bus. So he has to pay for bus or cab fare for them to get to school everyday.
What's more, Drumgold said his 12-year-old son is "as big as Shaquille O'Neal," with a size-13 shoe. He constantly outgrows his clothes or needs a haircut, all of which adds to expenses.
"I had to find a bootleg barber to get him an affordable haircut," he said.
He pays about $15 a month for haircuts, another $100 on childcare and another $100 on prescription drugs.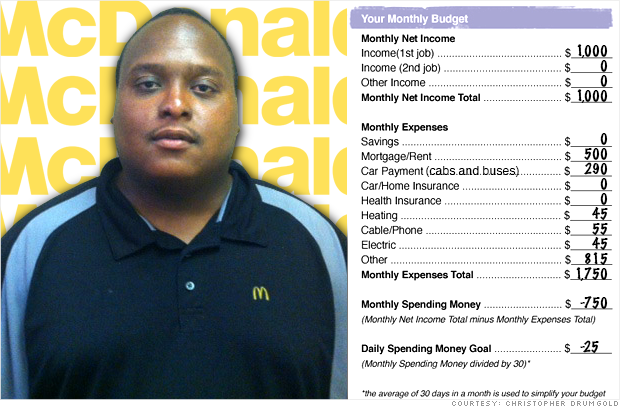 Each month, Kyle Steele gives half his paycheck to his daughter's mother. What's left is not enough to pay his gas and car insurance bills. He tries to keeps his food costs down by eating most of his meals at McDonald's.
His gas bill, at $160 each month, eats up a big portion of his budget.
He said he often borrows money from friends and family to get by.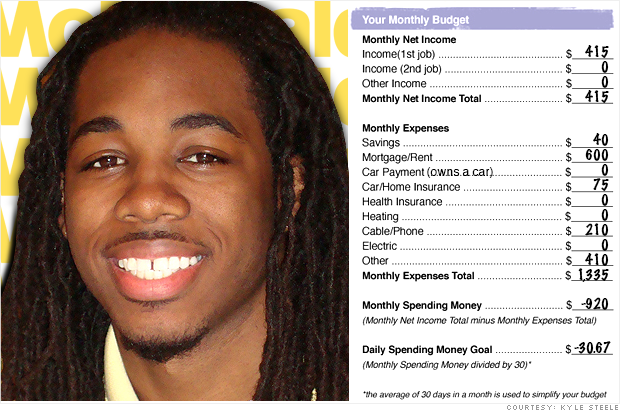 http://money.cnn.com/gallery/news/economy/2013/07/17/mcdonalds-worker-budget/index.html