The U.S. economy grew at a sizzling 5 percent annual rate in the July-September period, the fastest in more than a decade, boosted by strength in consumer spending and business investment.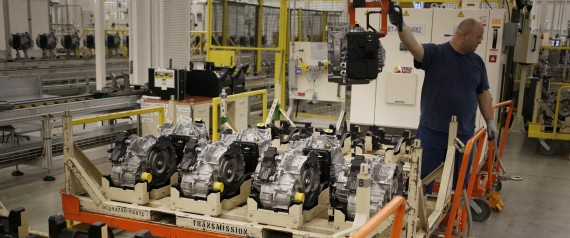 Twice in recent days, President Obama has pointed to recent economic trends and heralded an "American Resurgence." Indeed, as I type, the lead headline at the White House's homepage reads, "America's Resurgence is Real."

It's getting easier to believe this argument all the time. Take this morning, for example.
The U.S. economy grew at a 5.0% annual pace in the third quarter, matching the best performance since the third quarter of 2003. The increase in real gross domestic product was revised up from 3.9%, mainly because of consumer spending and business investment, the Commerce Department said Tuesday.

Economists polled by MarketWatch had predicted GDP would be revised up to a seasonally adjusted 4.4%. Consumer spending, the main source of economic activity, was revised up to 3.2% from 2.2%.
Remember, GDP growth at 3.9% looked pretty good when the preliminary tally was released a month ago. But 5% growth is amazing – and the strongest growth Americans have seen in 11 years.







A surge in U.S. economic growth lifted stocks Tuesday to record highs and showed that the United States is putting distance between itself and struggling economies around the world.

Fueled by hiring gains, cheaper gas and rising confidence, consumers and businesses drove growth to a sizzling 5 percent annual rate last quarter. Though the economy is likely cooling a bit, its solid pace is brightening hopes for 2015.

The economic strength could also shape the Federal Reserve's timetable for raising interest rates from record lows.

The government's third and final estimate of growth for the July-September period was the strongest for any quarter in 11 years. The result cheered investors. In midafternoon trading, the Dow Jones industrial average was up about 93 points to 18,053, the first time it's traded above 18,000.

In its report Tuesday, the government sharply upgraded third-quarter growth from its previous 3.9 percent estimate. Much of the increase came from consumer spending on health care and business spending on structures and software.

The economy has been benefiting from sinking energy prices, which have helped keep overall inflation ultra-low. Gas prices have fallen for 88 straight days, according to AAA, the longest consecutive decline on record. Cheaper gas has acted like a tax cut to free up money for Americans to spend on other items, including cars, clothes and appliances.

Last quarter's growth was the fastest since summer 2003, and it followed a 4.6 percent annual rate in the April-June quarter. The government separately reported Tuesday that in November, consumer spending rose the most in three months and income by the most in five months. Both figures brightened hopes for the 2015 economy.

"After four years of rocky recovery the U.S. economy is now hitting its stride with a notable acceleration in growth," said Gus Faucher, senior economist at PNC Financial Services Group. "Growth should remain good next year, with lower gasoline prices a big plus for consumers."

Source:

http://www.denverpost.com/breakingnews/ci_27193359/us-economy-grew-at-fast-5-pct-annual?source=rss

http://www.msnbc.com/rachel-maddow-show/us-economic-growth-soars-reaches-11-year-high

http://www.huffingtonpost.com/2014/12/23/us-gdp-growth_n_6371892.html?utm_hp_ref=tw