"Britain remains the world's leading recruiting ground for al-Qaeda." — Con Coughlin, Daily Telegraph.


When she sought help from the police and a lawyer, "the family of the defendants were insulted that she had gone to the law. They wanted her back within the family fold... Therefore, it was decided that she should be forced to comply or be killed." — Prosecutor of Ahmed A-Khatib, who murdered his wife for becoming "too westernized."




British school teachers are afraid to teach their students about Christianity out of fear of offending Muslims. — Roger Bolton, BBC Radio 4's Feedback program.




Rather than taking steps to protect British children, police, social workers, teachers... and the media deliberately played down the severity of the crimes [of Muslim sexual grooming gangs] in order to avoid being accused of "Islamophobia" or racism. — From the report "Easy Meat: Multiculturalism, Islam and Child Sex Slavery."




A group of British lawyers launched a website, Sharia Watch UK. The group called Sharia law "Britain's Blind Spot."




After Adebolajo, who murdered and tried to behead British soldier Lee Rigby with a meat cleaver, was given a "whole-life" prison term, his brother said his sibling was the victim of "Islamophobia."




"The problem of honor-based violence and forced marriages in England is "worse than people think." — Claire Phillipson, Wearside Women in Need
"If the Muslim sees a kaffir [non-Muslim] with nice clothes, the kaffir has to take his clothes off and give them to the Muslim. The kaffir, when he walks down the street, he has to wear a red belt around his neck, and he has to have his forehead shaved, and he has to wear two shoes that are different from one another. He [the non-believer] is not allowed to walk on the pavement, he has to walk in the middle of the road, and he has to ride a mule. That is, my dear brothers, the Islamic state."
"I have no doubt that all over the North East [England] first, second, third generation English young women are being forced into marriage.




"Schools and communities are keeping silent about it, because they are concerned that they would be called racist, Islamophobic. They don't quite know where the line between culture, religion and human rights should be drawn."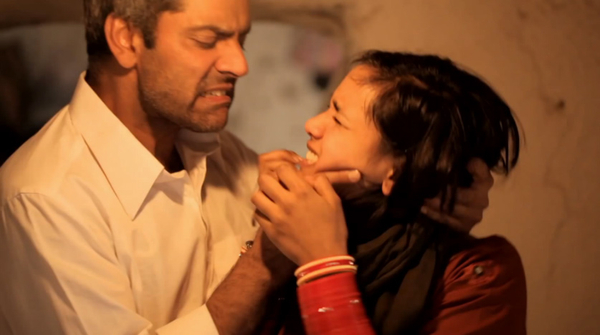 An image from the video "Right to choose: Spotting the signs of forced marriage - Nayana", produced by the UK Foreign & Commonwealth Office.
"The family of the defendants were insulted that she had gone to the law. They wanted her and her children back within the family fold... Therefore, it was decided that she should either be forced to comply or be killed."
"It's disgusting that only Islamic meat is provided and no others. How is it acceptable for me to eat blessed meat of another religion that is different to my own? To effectively impose a monopoly on my choice leads me to question whether their religion (Islam) is prioritized over my own."
"If and when I come back to Britain it will be when this Khilafah, the Islamic state, comes to conquer Britain, and I come to raise the black flag of Islam over Downing Street, over Buckingham Palace, over Tower Bridge and over Big Ben."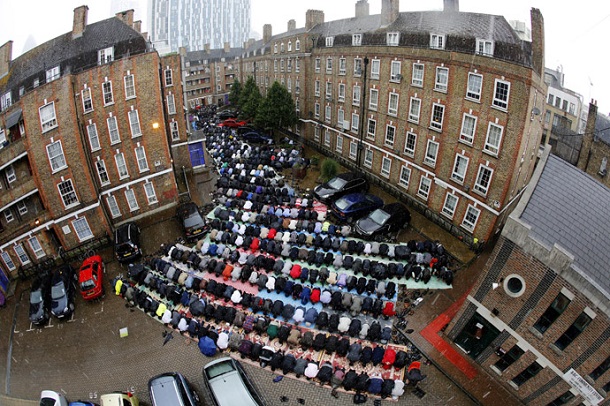 "Of my two sons one has become a Muslim and of my two daughters one of those has become a Muslim, and I have 12 lovely grandchildren, seven of whom are little Muslims.




"The family relationships since those events took place have been as happily familial, as close and as good as any parent or grandparent could wish.




"I do just wonder that if an improvement is needed between the faith groups, one way of promoting that might be to encourage interfaith marriages."
"My friends family have just been refused entry at VUE cinema as they are not Muslim this is a shocking disgrace. If the shoe was on the other foot there would be uproar. Can you imagine banning all Muslims to star city because it's Christmas."
"By embracing multiculturalism and the idea that every culture and belief is of equal value we have betrayed our own traditions of welcoming strangers to our shore.




"The fact is that for too long the doctrine of multiculturalism has led to immigrants establishing completely separate communities in our cities. This has led to honor killings, female genital circumcision and the establishment of sharia law in inner-city pockets throughout the UK."
"It's pretty horrendous when you hear how some of these children are being radicalized. The threat of radicalization of young people is real and this is a problem that is going to be with us not just for a couple of years, but for the next generation."
"Ultimately, I want to see every single woman in this country [Britain] covered from head to toe. I want to see the hand of the thief cut. I want to see the adulterer stoned to death. I want to see Sharia law in Europe. And I want to see it in America, as well. I believe our [Sharia] patrols are a means to an end."
"I was employed to do the work because I think they thought I would be objective," she said. "I was told to reveal what I saw. I did – and some people didn't like it.




"Every time a news item has come on about sexual grooming of young girls and girls in care, and the link, too, between private hire drivers, I have thought, 'I told them about that in 1991 but they didn't want to acknowledge it.' I think the problem has got worse and worse over time."
http://www.gatestoneinstitute.org/4996/britain-islamization#.VKQE1QUcxRk.facebook