The cultural boycott against of Israel is raising its head again: In a letter published Friday in the British Guardian newspaper, more than 100 British artists have pledged not to accept professional invitations to Israel as long as the state continues to deny basic Palestinian rights.

The artists – which include musician Roger Waters and film directors Mike Leigh, Phyllida Lloyd, Ken Loach and Israeli-born Eyal Sivan – compared themselves in the letter to the artists who refused to perform in South Africa during the apartheid era.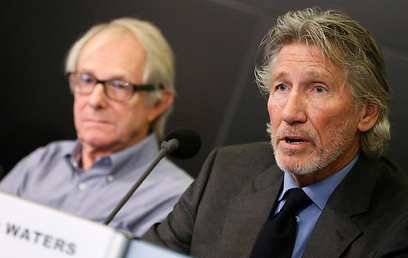 "Along with more than 600 other fellow artists, we are announcing today that we will not engage in business-as-usual cultural relations with Israel," they said. "We will accept neither professional invitations to Israel, nor funding, from any institutions linked to its government.
"Since the summer war on Gaza, Palestinians have enjoyed no respite from Israel's unrelenting attack on their land, their livelihood, their right to political existence. '2014,' says the Israeli human rights organization B'Tselem, was 'one of the cruelest and deadliest in the history of the occupation.' The Palestinian catastrophe goes on.


Ken Loach (L) and Roger Waters (Photo: EPA)

"Israel's wars are fought on the cultural front too. Its army targets Palestinian cultural institutions for attack, and prevents the free movement of cultural workers. Its own theatre companies perform to settler audiences on the West Bank – and those same companies tour the globe as cultural diplomats, in support of 'Brand Israel.'

"During South African apartheid, musicians announced they weren't going to 'play Sun City.' Now we are saying, in Tel Aviv, Netanya, Ashkelon or Ariel, we won't play music, accept awards, attend exhibitions, festivals or conferences, run master classes or workshops, until Israel respects international law and ends its colonial oppression of the Palestinians."

The letter was signed by some 100 artists, joining 600 others who have already announced a cultural boycott of Israel. Clickhere for the full list of signatories.

The Israeli Embassy in London offered the following response: "The bilateral relations between Israel and Britain are enjoying constant growth. Mutual trade has doubled in recent years, and there is extensive cultural and academic cooperation as well.


Source:

http://www.ynetnews.com/articles/0,7340,L-4626671,00.html