One prophetic Scripture gives us a sequence of events which shall enable us to ascertain with a great deal of certainty when Antichrist will arise. If you properly understand this one prophecy, you will not be blown about by every wind of pretended prophetic word from someone. You can stand firmly rooted in your understanding, settling your mind greatly.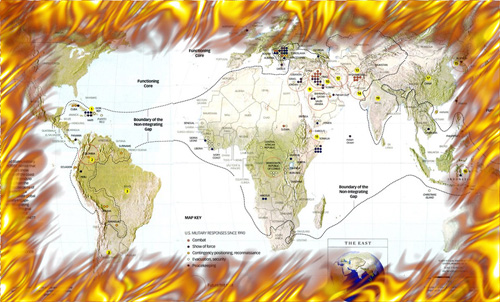 Let us review this Scripture:


"After this I saw in the night visions, and behold, a fourth beast [the Roman empire]--terrible, powerful and dreadful, and exceedingly strong. And it had great iron teeth; it devoured and crushed and trampled what was left with its feet. And it was different from all the beasts that came before it, and it had ten horns [symbolizing ten kings]. I considered the horns, and behold, there came up among them another horn, a little one, before which three of the first horns were plucked up by the roots; and behold, in this horn were eyes like the eyes of a man and a mouth speaking great things." (Daniel 7:7-8; Parallel Bible, KJV/Amplified Bible Commentary)

There is no doubt whatsoever that the "another horn, a little one" is Antichrist, because he is described in typical Antichrist language, "eyes like the eyes of a man and a mouth speaking great things."

In fact, Bible scholars have long called Antichrist the 'eleventh horn", based upon this verse. The occult has long assigned the number '11' to symbolize their coming Masonic Christ, another exciting instance to demonstrate that God's prophecy is driving world events.

Daniel 2:44 makes it quite clear that, just as God's final kingdom will cover the entire earth, the kingdom of the collective final 10 kings will encompass the whole world. Therefore, we are looking for the establishment of a worldwide final kingdom which numbers only 10 super-nations, symbolized as kings, or horns. Since there are nearly 200 different nations in the world today, what we should expect to see is a movement to group these nations together so that the final number equals precisely 10!

The Illuminati published just such a global reorganization plan in 1974 in a book entitled, "Mankind At The Turning Point". We posted an article explaining this exciting development in June, 1996, NEWS1002, entitled, "NAFTA: The Shocking Rest of the Story".

What is their collective grouping together of all nations of the world into exactly 10 nations?

10 SPHERES OF INFLUENCE -- INTERNATIONAL REORGANIZATION


1) North America
2) Western Europe
3) Japan
4) Australia, South Africa, and the rest of the market-economy of the developed world.
5) Eastern Europe, including Russia
6) Latin America
7) North Africa and the Middle East
8) Tropical Africa
9) South and Southeast Asia (Including India)
10) China

This dramatic fulfillment of this prophecy looks like this on a map.


These prophecies in Daniel are quite clear in predicting that the world in the last days of time, during the 7-year Tribulation Period, will be reorganized into 10 Super Nation States, or 10 Regions. This is a shocking revelation, since the world has been controlled by individual sovereign nations since the Tower of Babel 5,000 years ago. Today, there are over 170 sovereign nations in the world. A new governmental structure is being silently erected over these 170+ sovereign nations Before our very eyes, a new government is being erected; this plan, originally published in 1974 in "Mankind At The Turning Point", is being implemented. And when it is finally implemented, it will fulfill this Biblical prophecy of 10 Nations at the End of the Age.

Therefore, you see, NAFTA is not simply an economic super nation; rather, it is the political Nation #1 of this 10 Nation New World Order. Very few people understand this, because they have been falsely conditioned by our national leadership, aided by our national mass media. No one has ever explained this before. Now, you can understand why Presidents as seemingly dissimilar in world view, style and philosophy as Presidents George H.W. Bush and William Clinton could support the creation of NAFTA. President George H.W. Bush began the push to create NAFTA, but was unable to see it created before he left office. President Clinton supported NAFTA, even though he opposed nearly every other thing for which Bush stood. The Clinton/Bush team pressured Congress to pass NAFTA in 1993. At that point, NAFTA more resembled a Free Trade Zone than a new sovereign nation. That was the plan, as the Elite figured it would be easier to pass a Free Trade Zone than a new supernation, where each individual nation would be force to surrender their sovereignty.

At this point, I am going to state a truth which I have carefully enunciated throughout many articles: The New World Order Plan was created officially in 1776, and has been consistently supported by Presidents ever since. In this 20th Century, nearly every President, both Democratic and Republican, has secretly supported the Plan for The New World Order. It has not mattered whom we have elected, because both political parties are united in this drive to accomplish this Plan. Generally, Republican Presidents have concentrated on changes in the Foreign Policy field, while Democratic Presidents have concentrated on the needed changes in Domestic Policy. But, whether we have a Republican or Democratic President, the New World Order Plan continues unabated. NAFTA is one example of a Foreign Policy change initiated by a Republican President and continued by a Democratic President.

Consider how privileged you have been to have seen fulfillment of Biblical prophecy that is 2,500 years old, fulfilled before your eyes, even though you had no idea at the time the significance of what was happening. This is but one example of Biblical prophecy being fulfilled by this Plan for the New World Order. Biblical prophecy states, in Revelation 17:12, that this reorganization will occur as the result of a conspiracy amongst the final 10 rulers, for the express purpose of handing their newly acquired authority over to the Antichrist. Consider the exact wording,


"Also, the ten horns that you observed are ten rulers who have as yet received no royal dominion, but together they are to receive power and authority for a single hour, along with the beast {Antichrist is the "beast"}. These [rulers] have one common policy, and they deliver their power and authority to the beast." (Revelation 17:17; Parallel Bible, KJV/Amplified Bible Commentary)

This Scripture absolutely screams "conspiracy"! God has placed the desire in the hearts and minds of these final 10 kings to create a "common policy", a common plan, which will fulfill God's prophecy exactly. This reality is the reason so many of the Illuminati Plans fulfill, or will fulfill, prophecy precisely. In fact, I pay no attention to a portion of their plan which does not fulfill prophecy, because I know it will never happen.

Now, let us examine Daniel 7:7-8 again for we shall see the sequence by which we can know with certainty the approximate time when the World War III designed to produce Antichrist is getting ready to explode.

Let us examine the relevant portion carefully:

".. I considered the horns, and behold, there came up among them another horn, a little one ..."

Please carefully notice the sequence here:

Step 1) Daniel saw in God's vision that the world's many nations had been reorganized into only 10, each one with a leader;

Step 2) After the 10 super-nations were formed, Antichrist arises!

Therefore, it should be a simple matter to determine whether the world is close to the appearance of Antichrist, or whether we are some years away. All we have to do is keep our minds focused on the formation of the Illuminati Plan for the 10 supernations. With this thought in mind, let us go to this reorganization plan to ascertain its progress.




Source:

http://www.cuttingedge.org/news/n2363.cfm