Several police officers were injured, squad cars are being set on fire and gangs in Baltimore threatened to continue attacks on cops Monday as unrest mounted following the funeral of a black man who died in police custody earlier this month.

It's total chaos! These people are destroying this city and it is insane!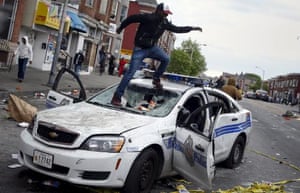 Scene at Mondawmin Mall, North Baltimore, students had circulated a meme to organize a march after Freddie Gray's funeral. Students were met at the origination point by a horde of Riot Police who had the intent on dispersing the students. Police had found out about the event via twitter. Situation is still escalating. Just hours after Freddie Gray's funeral.

Maryland Governor Hogan has signed executive order declaring a state of emergency and has activated the National Guard. Baltimore's Mayor has now instituted a citywide curfew for adults and juveniles from 10pm to 5am.


The rioting and threats of further violence followed the funeral of Freddie Gray, who died April 18, a week after being injured while in police custody. Gray, 25, was being transported in a police vehicle when he suffered injuries that proved fatal. On Monday, police said an online call was issued for a "purge" at 3 p.m. ET, starting at Mondawmin Mall and ending in the downtown area. The type of threat threat is based on a movie called "The Purge," whose plot involves rampant lawlessness.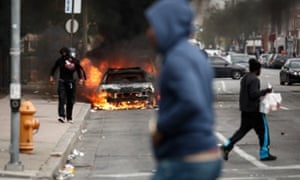 Tweets from the Baltimore Police Department appeared to show the protesters followed through. One Twitter dispatch said "a group of juveniles in the area of the mall were blocking traffic, and there were reports of rock throwing. A police captain said at a press conference said seven police officers had been injured, one rendered unconscious and several suffering broken bones.


Armored SWAT vehicles were on the scene, but police were asking protesters "to remain peaceful." Meanwhile, nearby University of Maryland-Baltimore has closed its campus, as have many area businesses.


"It's a group of lawless individuals."

– Baltimore Police Capt. Eric Kowalczyk
"We have seven officers who were injured during the course of this," said Baltimore Police Capt. Eric Kowalczyk. "They have broken bones, one of them is unresponsive. This is not okay. Our officers went out to that situation to make sure that the people who live in that community were safe and we're going to continue to do what we can to make sure that those people stay safe.

"It's a group of lawless individuals," Kowalczyk said of the rioters. "What we know is that they are a group of criminals with no regard for the people in the community."




Source:

http://www.americasfreedomfighters.com/2015/04/27/breaking-baltimore-is-a-full-blown-war-zone-its-totally-out-of-control/

http://www.theguardian.com/us-news/live/2015/apr/27/baltimore-police-clash-protesters-freddie-gray-live?CMP=fb_gu

http://revolution-news.com/breaking-students-hold-freddie-gray-march-now-resisting-police-repression/