We saw all what happen in Ukraine made by US NATO Zionists a bloody civil war.

And it was all about Russian gas.

This time we see the same situation is facing Macedonia a peaceful small country in the middle of the Balkan. But always strategic place where the all roads go.

This time Russian gas needs to pass Macedonia from Turkey and Greece to Serbia, Hungary and Austria. All this countries want Russian gas to raise the economy to this countries.

But USA does not thinks the same. We all saw what they did in Ukrainian and now the similar scenario they made for Macedonia. Just the gas lines not to pass Macedonia that is working good this past years and has economic growth.
Every time US needs this they got involved Albanian muslim terrorists from Kosovo and Macedonia that were fighting in The Middle East countries for Islam fundamentalism.
This time the have objectives to hit public places like, Government buildings and agencies, supermarkets, and who knows what just to make conflict between peaceful macedonian and albanian population that live together for years.
This terrorists were on time noticed by the Macedonian police and 2 days they need to react and arest this muslim fundamentalist terrorist that like to create big Albanian state on the Balkan.
They are controlled 100% by USA.
Macedonian prosecutors have charged 30 people with terrorism after a shootout in the northern town of Kumanovo left 22 dead, including eight police officers.
The prosecutor's office said some had also been charged with illegal possession of arms and explosives.
It said 18 of the accused were ethnic Albanians from neighbouring Kosovo, most of whom entered Macedonia illegally.
The breakaway territory's top leaders condemned "any involvement" of Kosovans in the clashes, which erupted when police moved in on the gunmen on Saturday.
The clashes in Kumanovo were the worst in Macedonia for 14 years, and raised fears of fresh unrest similar to the country's 2001 ethnic conflict.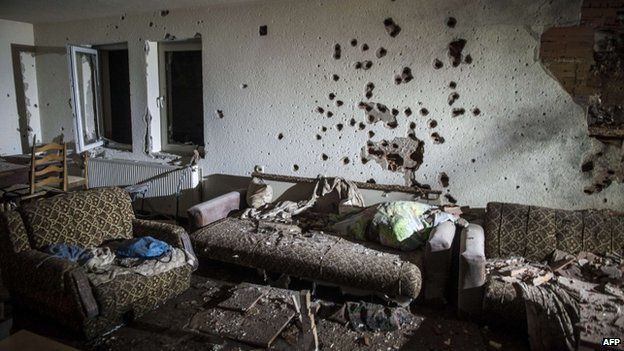 Macedonian prime minister Nikola Gruevski claimed a "particularly dangerous terrorist group" of ethnic Albanians had been planning a major attack in the Balkan country.
UN secretary-general Ban Ki-moon appealed for calm, calling on all sides to "exercise maximum restraint and to refrain from any rhetoric and/or actions that may escalate tensions further".
NATO and the EU have called for a return to calm.
The attack should not distract attention from Macedonia's "very serious internal political situation" or be used "to introduce ethnic tensions", EU enlargement commissioner Johannes Hahn said on Monday.
PHOTO: Residents stand beside a burnt out vehicle and a destroyed house in Kumanovo. (Reuters: Marko Djurica)
The government said eight police and 14 members of an "armed group" had been killed in the ensuing gun battle, describing the gunmen as former rebel commanders from neighboring Kosovo, which broke from Serbia in war in 1999 and inspired an ethnic Albanian insurgency in Macedonia two years later.
A Reuters reporter saw residents returning after dark, scurrying to their homes through streets stained with blood. At least eight houses were damaged beyond repair, flames still licking the roof of one.
"It's total destruction. Thank God we're safe," said Haki Ukshini, his home reduced to a brick shell shorn of roof and windows.
Police said the gunmen had been plotting to attack civilian and state targets this month, just as a political crisis rocking the government threatens to climax in an opposition rally called for May 17.
Explosions and automatic gunfire rattled Kumanovo through Saturday and into Sunday, recalling the clashes of 2001.
Dozens of cars and houses were destroyed during the violence in Kumanovo, around 40 kilometres north of Skopje.

The incident came less than three weeks after around 40 Kosovo Albanians briefly seized control of a police station on Macedonia's northern border, demanding the creation of an Albanian state in Macedonia.

This is all creation from the West that don't like Macedonia and all other countries in the Balkan to cooperate with Russia that is a big player in the worlds economy.


Source:

http://www.abc.net.au/news/2015-05-12/macedonia-charges-30-with-terrorism-after-kumanovo-shooting/6461990
http://www.reuters.com/article/2015/05/10/us-macedonia-police-idUSKBN0NU06X20150510