"AND THE THIRD ANGEL POURED OUT HIS VIAL UPON THE RIVERS AND FOUNTAINS OF WATERS; AND THEY BECAME BLOOD. [REVELATION 16:4]"

People all over the world are taking pictures of blood red waters. They fear that the water is a sign of the End of Times. From seas to rivers, numerous bodies of water are turning red overnight. Christians point to biblical prophecy in Revelation 16:4, which describes an angel pouring a vial over earthly waters that cause them to turn to blood as proof that the apocalypse is near.

However, The Washington Post reported on one such incident in China that left the river in the city of Wenzhou a startling shade of red. Residents say they woke up to the strange sight with no explanation for the blood-red waters.


"A FEW PEOPLE THAT WERE UP AND ABOUT AT 5 A.M. SAID THAT EVERYTHING WAS NORMAL BUT THEN SUDDENLY WITHIN THE SPACE OF A FEW MINUTES THE WATER STARTED TURNING DARKER AND EVENTUALLY WAS COMPLETELY RED."1

Though many believed the red bodies of water are a sign from the heavens, the Chinese government assures everyone that the red waters get their color from illegal dumping, likely artificial coloring from the clothing industry. Although the government wants everyone to remain calm many folks do not believe their explanation.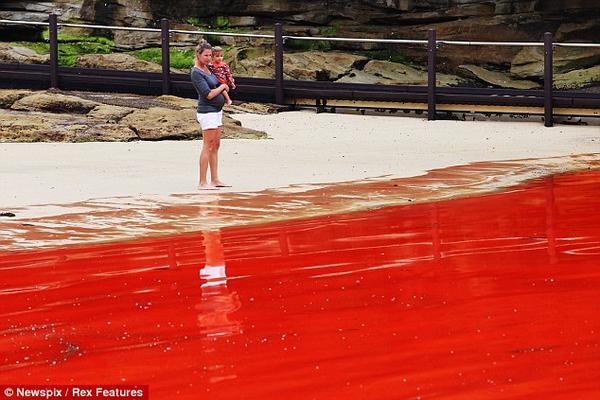 "WATER TURNING BLOOD RED – WAKE UP FOLKS!!! WE ARE SEEING A FORESHADOWING OF THE BOOK OF REVELATION JUDGMENTS UPON THE EARTH!!! WATERS AROUND THE WORLD TURNING BLOOD RED – WORLDWIDE!!!"1


What do you think? Are you worried about the bodies of water turning blood red across the globe?
Source:
http://www.godfruits.tv/the-waters-in-the-world-are-turning-blood-red-people-fear-its-a-sign-of-the-end-of-times/?ref=8d704t11a