Ohh looks like German people are stupid slaves also.

With what brain would you give money to the Greeks over and over again?!!

Why? Because it is a German colony. Did you know that when Greece was form was monarchy ruled by German king Otto.

The Bundestag approved the Greek bailout with 454 lawmakers voting 'yes', 113 voting 'no' and 18 abstaining.


Chancellor Angela Merkel's centre-right conservative bloc has been divided over the deal.

Forty-six MPs did not attend the session, according to the BBC.

It is thought a significant proportion are conservatives, who stayed away to avoid defying Mrs. Merkel and voting no to the deal.

At a mock trial held on Tuesday, Merkel's Christian Democrats (CDU) and their Bavarian sister party the CSU, 56 of the 311 conservative legislators said 'no' to the package with four abstaining, Deutsche Welle reports.

The last time Bundestag was deciding whether to start negotiations with Greece at all. Almost one out of five MPs - 60 MPs from the CDU - voted against the start of talks.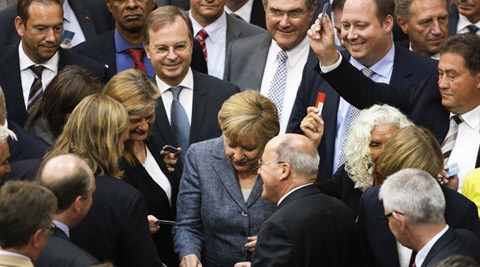 The German Ministry of Finance has always emphasized that it considers the IMF's participation in the bailout essential. However, the IMF has postponed its decision until October, when a first test of Athens' commitment to the deal will take place.

Merkel and Finance Minister Wolfgang Schauble called party parliamentarians to vote in favor of the bailout. Previously, Schauble had been more radical and suggested that Greece should temporarily leave the eurozone. But last month he told parliament that the third bailout was a last resort to settle the long-standing problem of Greece's €320-billion foreign debt.


Source:

http://www.rt.com/business/312808-german-parliament-greek-bailout/