North and South Korea have steered military tensions away from the threat of imminent confrontation, announcing an agreement over a series of recent flashpoints.

Landmine blasts, loudspeakers blaring propaganda, an exchange of artillery fire and threats of more hostilities had put both sides on edge along the Demilitarized Zone, the world's most heavily fortified border.

But after marathon talks between high-level officials, the two bitter foes said in the early hours of Tuesday that they had found enough common ground to dial back the situation.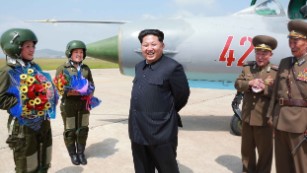 Pyongyang expressed regret over the serious injuries suffered by two South Korean soldiers in landmine blasts in the DMZ, and Seoul agreed to switch off the loudspeakers pumping propaganda broadcasts over the border Tuesday, both sides said.

Korea watchers expressed relief that the deal had defused the risk of confrontation for the time being after a period in which North Korea had doubled its artillery forces on the front lines and sent most of its submarines out from their bases.

The agreement "reduces the risk of a miscalculation with so many forces on the ground there and room for an error," said Philip Yun, executive director of the Ploughshares Fund, a group that advocates nuclear disarmament. "This is really good news over the short term."


Source:

http://www.cnn.com/2015/08/24/asia/koreas-tensions/index.html

http://endtimeheadlines.org/2015/08/north-korea-and-south-korea-reach-agreement-2/