THIS HAS BECOME A RECURRING THEME WITH THE AMERICAN PRESIDENT

"Ye are of your father the devil, and the lusts of your father ye will do. He was a murderer from the beginning, and abode not in the truth, because there is no truth in him. When he speaketh a lie, he speaketh of his own: for he is a liar, and the father of it." John 8:44 (KJV)

It's funny how these things always seem to be following Obama around, you almost get the feeling that Someone is trying to give you a message. Take a look at the shot a photographer captured of Obama escorting Pope Francis around Washington today. They say a picture tells a thousand words, and that is certainly true in this case.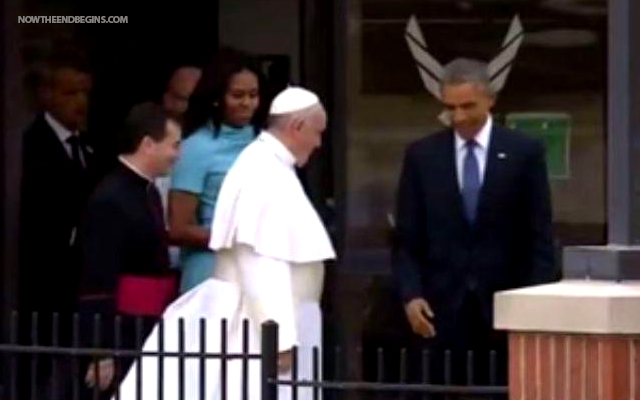 Oh yes, I totally agree…click for more Obama with horns photos

When Barack Obama was first elected in 2008, he was constantly pictured with an angelic glow surrounding him. Artists would frequently draw him with a halo surrounding his head. He was the Liberal Messiah for a lost and dying world. But something changed along the way. Halos have given way to horns. Scary, dark, nasty looking horns.

Source:

http://www.nowtheendbegins.com/blog/?p=35807