As many as 150000 Jews served in Hitlers military, some with the Nazi leader's explicit consent, according to a U.S. historian who has interviewed hundreds of former soldiers.

Bryan Mark Rigg, history professor at the American Military University in Virginia, told Reuters on Thursday that the issue of soldiers of partial Jewish descent was long a somewhat taboo subject, overlooked by most academics as it threw up thorny questions.


"Not everybody who wore a uniform was a Nazi and not every person of Jewish descent was persecuted," he said. "Where do they belong? They served in the military but lost mum at Auschwitz."

According to the Nuremberg Laws of 1935, Jews or those of partial Jewish descent were unfit for military service, but Rigg tracked down and interviewed more than 400 former soldiers of partial Jewish descent — labelled "Mischlinge" ("half-caste") by the Nazis.

He estimates there were about 60,000 soldiers with one Jewish parent and 90,000 with a Jewish grandparent in the Wehrmacht, the regular army as distinct from the Nazi SS.

"They thought 'if I serve well they're not going to hurt me and not going to hurt my family'," he said.

However, on returning home from the campaign in Poland at the start of the war to find persecution of their families worsening, many soldiers classified as half-Jewish started to complain, prompting Hitler to order their dismissal in 1940.

But many of these so-called half-Jewish soldiers continued to serve, sometimes due to delays in the discharge order reaching the front, because they concealed their background or because they applied and won clemency for good service.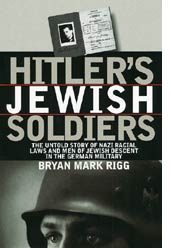 Many senior officers with Jewish ancestry won special permission to serve from Hitler himself.

"History is not so black and white. History about Mischlinge shows how bankrupt the Nazi racial laws were," said Rigg.

SENSITIVE SUBJECT

While Germany has long been aware of men serving as soldiers who Nazi race laws should have classified as Jewish, most notably former Chancellor Helmut Schmidt and Luftwaffe Field Marshal Erhard Milch, Rigg's large estimate has surprised many.

Die Welt daily called Rigg's book "Hitler's Jewish Soldiers" "one of the most important Holocaust studies of recent years". The author was in Berlin to launch the German language version.

"The Mischlinge suffered the same fate in academic life as they did in real life. There was nobody to speak for them," Rigg said. "People thought it could be misinterpreted, it would be like saying: 'look they did it to themselves'."

Rigg, who has served in the U.S. Marines and as a volunteer in the Israeli army, was moved to research the subject after he discovered his own Jewish ancestry while probing his family tree and after a chance meeting with a Jewish Wehrmacht veteran.

Many of his subjects were telling their story for the first time and in some cases their families knew nothing of their Jewish heritage. "They would talk their hearts out, telling me all about this schizophrenic story they went through," he said.

He is convinced that most of the soldiers of Jewish decent were not aware of the Nazis' systematic murder of Jews, noting that most half-Jews reported to deportation stations in 1944.

"Most say they do not feel guilty about serving in the military, they feel guilty about what they didn't do to save their relatives," he said.

Source Rense/Reuters

http://thegreateststorynevertold.tv/as-many-as-150000-jews-served-in-hitlers-military/