Every year human sacrifices to God or Satan you decide.

If you take the time to take a look, this happens every year about this time. Dozens or hundreds of people stomped to death in the inevitable stampede at Mecca. There are always massive crowds milling about the big box where Allah lives in the complex. Someone invariably trips and the race is on.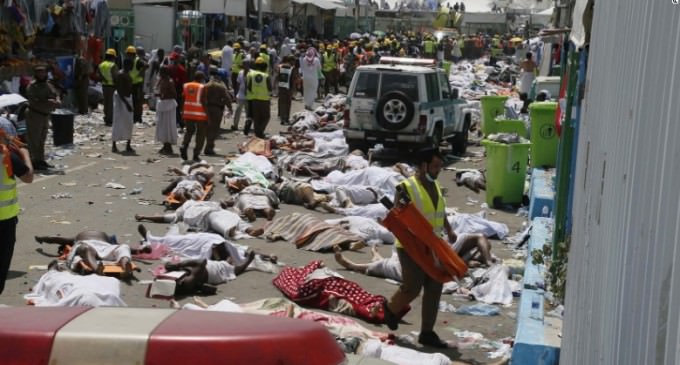 In streaming ribbons of white, great masses of Muslim pilgrims made their way between cities of air-conditioned tents toward the next stop on their holy tour of Mecca in Saudi Arabia.

Then something went disastrously wrong, trapping the crowds in narrow streets and touching off a mass panic and crushing stampede that left the asphalt covered with lost sandals, crumpled wheelchairs and piles of white-robed bodies.


It was the deadliest accident during the hajj pilgrimage in a quarter-century, with at least 717 pilgrims from around the world killed and more than 850 injured. And it posed yet another challenge for the country's new leader, King Salman, who is already coping with low oil prices, a war in Yemen and an increasingly fierce rivalry with Iran.

Source: href="http://www.nytimes.com/2015/09/25/world/middleeast/mecca-stampede.html?_r=0">NY Times

The stampede was the latest in a series of crises that have plagued the pilgrimage this season: Just two weeks ago, a crane collapse killed more than 100 visitors, and hotel fires have injured others. The missteps have embarrassed the insular Saudi monarchy, which considers itself the global guardian of orthodox Islam and takes great pride in protecting the holy sites and their millions of annual visitors.

What caused the stampede exactly?



Among the suggested causes: pilgrims rushing to complete the rituals, heat, masses of faithful pushing against each other in opposite directions, even confusion among the many first-timers on the annual Islamic pilgrimage to Mecca and Mina.
TOO MANY PEOPLE, TOO LITTLE TIME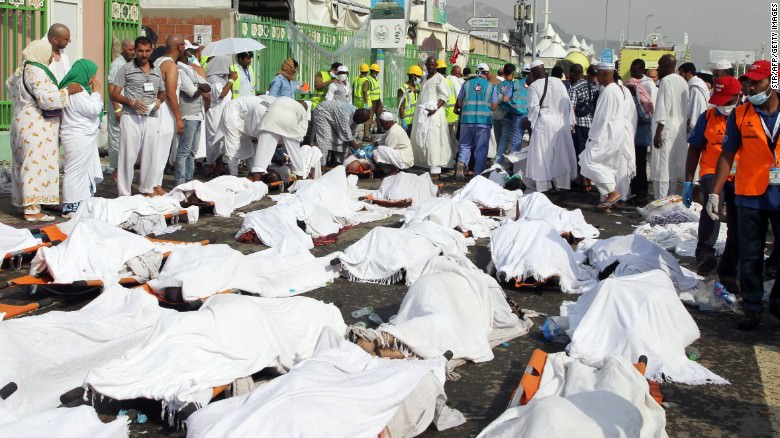 More than 2 million Muslims from around the world are in Saudi Arabia for the Hajj, a pilgrimage that all Muslims who have the financial and physical ability make at some point in their lives.

The millions of people must perform a litany of rituals in five days, including the symbolic stoning of the devil in Mina, about 2 miles away from the Mecca holy site.

That's where the deadly stampede took place Thursday, the third day of the five-day event. Officials say 717 people died and 900 were injured.

Iran's semiofficial FARS news agency said Friday that 131 Iranians were among the dead. Another 365 remained missing, the state-run IRNA news agency reported, cautioning against assuming they have died.


The dead were from at least 11 nations.

India's foreign minister reported on Twitter that 14 Indian citizens had died. Egypt counted also counted 14 deaths and at least 30 people injured. Somalia said seven of its people were dead, Pakistan six, Senegal five, Turkey four and Kenya three. Two people from Indonesia were reported killed, along with one each from the Philippines and the Netherlands.

Saudi Arabia also said six members of its civil defense forces died in the stampede.

The Muslim Council of Wales said Friday that it had heard from only two of six tour groups that had traveled from south Wales for the Hajj. Together, the groups number about 250 pilgrims, council official Saleem Kidwai said. Families and relatives are "very anxious, very concerned," he said.

Hajj pilgrim Ethar El-Katatney, a journalist and blogger, said people were trying to push their way in opposite directions — some headed to the site of the stoning, some coming back from their previous ritual.


"As our group started to head back, taking Road 204, another group, coming from Road 206, crossed our way," said another worshipper, Ahmed Mohammed Amer.

"Heavy pushing ensued. I'm at a loss of words to describe what happened. This massive pushing is what caused the high number of casualties among the pilgrims."

After the stampede, it took hours for rescue workers to try to tend to all those trampled.


Source:

http://www.truthandaction.org/700-dead-mecca-caused-hajj-stampede/2/

CNN