WWIII is happening right now...

Russian President Vladimir Putin said the Su-24 was hit by air-to-air missiles fired by Turkish F-16s while it was flying over Syrian territory.

But Turkish military officials said the plane was engaged after being warned that it was violating Turkish airspace.

Mr Putin described the incident as a "stab in the back" committed by "accomplices of terrorists".

The crew ejected before the jet crashed in Latakia province, but Syrian rebels said at least one was dead.


It is the first time a Russian aircraft has crashed in Syria since Moscow launched air strikes against opponents of President Bashar al-Assad in late September.

"This goes beyond the normal struggle against terrorism. This was a stab in the back by the accomplices of terrorists," Mr Putin stated, an apparent reference to Turkey's support for Syrian rebel groups.

"Our pilots and our plane did not in any way threaten Turkey. It is quite clear," he added.

"They were carrying out an operation against [Islamic State militants] in the mountains of northern Latakia, where militants who originate from Russian territory are concentrated. So they were carrying the key task of preventative attacks against those who could return to Russia at any time."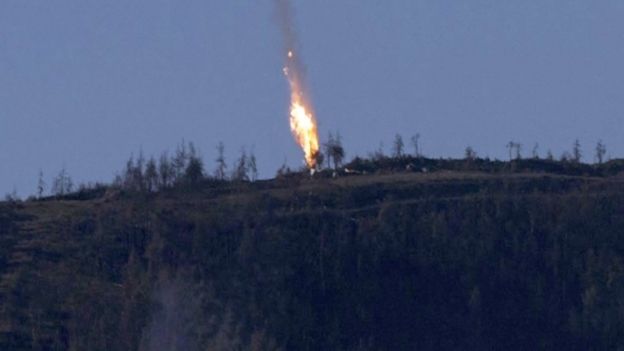 Not that just Turkey shoot down the Russian war plane they also shot the pilots.

Source:

http://www.bbc.com/news/world-middle-east-34907983
http://www.realjewnews.com/?p=509