FACT 1 –




When the Pope offered to sponsor a peace conference intended to avert the coming war; Germany said 'yes' – but Britain and Poland said 'no'. The British government chose to pursue an alliance with Soviet mass-murderer Stalin instead.

Hitler and the Vatican were willing to hold an international peace conference. Above: Hitler at a function with the Papal Nuncio (Vatican Secretary of State)

Excerpts from the New York Times stories:

"The general British reaction on the feasibility of an international conference to smooth out the troubles of Europe is somewhat lukewarm. This applies to reports that the Vatican has put out feelers regarding the possibility of international action for the settlement of the German-Polish problems."

"The negotiations with Russia (Stalin) are having repercussions on the British reaction to the Pope's conference proposal. At the present stage the British are reluctant to take part in any such conference with Russia eliminated." (emphasis added)
FACT 2

THREE DAYS BEFORE THE START OF WORLD WAR 2 IN POLAND (A NATION RULED BY AN AGGRESSIVE MILITARY DICTATORSHIP), HITLER WROTE A LETTER TO THE PRESIDENT OF FRANCE CALLING FOR THE RESTRAINT OF POLAND AND PLEADING TO MAINTAIN PEACE WITH FRANCE.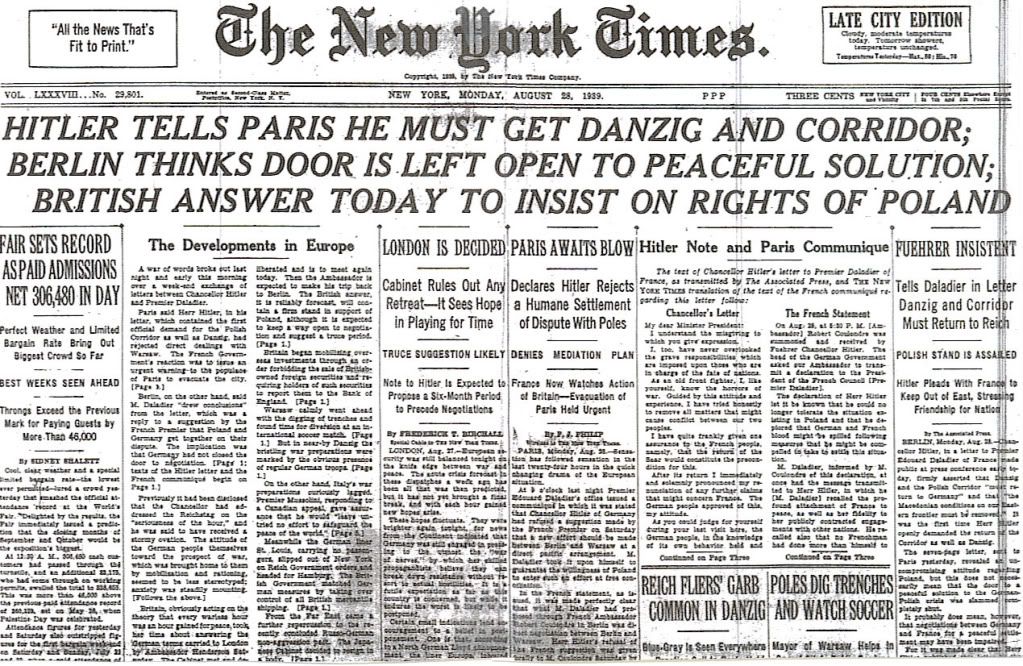 "BERLIN THINKS DOOR IS LEFT OPEN TO PEACEFUL SOLUTION"

The August 28th headline of the New York Times confirmed that Hitler sought to avoid war with Britain & France.

Excerpt of Hitler's letter to President Daladier (from NY Times front page):




"My dear Minister President:

I understand the misgiving to which you give expression. I, too, have never overlooked the grave responsibilities which are imposed upon those who are in charge of the fate of nations. As an old front line fighter, I, like yourself, know the horrors of war. Guided by this attitude and experience, I have tried to remove all matters that might cause conflict between our two peoples.

I have quite frankly given one assurance to the French people, namely, that the return of the Saar would constitute the precondition for this. After its return I immediately and solemnly pronounced my renunciation of any further claims that might concern France. The German people approved of this, my attitude.

As you could judge for yourself during your last visit here, the German people, in the knowledge of its own behavior held and holds no ill feelings, much less hatred, for its one-time brave opponent. On the contrary, the pacification of our western frontier led to an increasing sympathy."

"I am deeply convinced that if, especially, England at that time had, instead of starting a wild campaign against Germany in the press and instead of launching rumors of a German mobilization, somehow talked the Poles into being reasonable, Europe today and for twenty-five years could enjoy a condition of deepest peace.
.
As things were, Polish public opinion was excited by a lie about German aggression."
FACT 3



'FRENCH INVADE REICH; BRITISH LAND IN FRANCE'

Nine months before Germany invaded France; the French had invaded and occupied part of Germany.



pictures above show – invading French soldier reads a poster in German village of Lauterbach.
and the French-occupied area of Germany.
FACT 4 –




The total number of British civilians killed during 5 ½ years of war was no more than 30,000. The number of German civilians killed in just one night of the Allied firebombing of Hamburg (1943) was 40,000. The 2-day firebombing of Dresden (1945) killed anywhere between 200-300,000!



It was Churchill, not Hitler, who ordered the targeted fire-bombing of crowded residential neighborhoods.
FACT 5


During the 1990's, several Jewish survivors of Auschwitz testified that they knew nothing of any "gas chambers" – with one man claiming the "gas chamber" story was a propaganda myth.

After testifying in defense of Canadian "Holocaust Denier" Ernst Zundel; three-year Auschwitz inmate and noted writer Joseph Burg was disowned from the Jewish community for stating that there were "no gas chambers" at Auschwitz. When Burg died, Zundel had to have him buried at a Catholic Cemetery.

Image above : Auschwitz inmate Joseph Burg (white beard) insisted: "no gas chambers".



Image above : Upon being liberated in 1945, female Jewish survivors of the Dachau internment camp (interned as a wartime security precaution because most Jews supported the war against Germany) look none the worse for wear. Some had even just given birth to healthy babies!

SOURCE –
THESE AND MANY OTHER AMAZING FACTS CAN BE FOUND IN: THE BAD WAR: THE REAL HISTORY OF WORLD WAR II THAT YOU WERE NEVER TOLD — BY M S KING —AVAILABLE AT AMAZON.COM (PAPERBACK & KINDLE) — IN EUROPE: AMAZON.CO.UK



FOR MORE ON M.S. KING'S BOOK 'THE BAD WAR' READ HERE AND BE SURE TO CHECK OUT HIS WEBSITE FOR DAILY NEWS AND UPDATES ON THE JEWISH ZIONIST PLAN FOR A NWO HERE
SEE ALSO –


Source:
http://smoloko.com/?p=9255