After a historic meeting in Cuba, Russian Orthodox Patriarch Kirill and Roman Catholic Pope Francis on Friday signed a joint declaration on religious unity. They called for an end to persecution of Christians in the Middle East and North Africa, where "whole families, villages and cities of our brothers and sisters in Christ are being completely exterminated."

The two churches have been divided for 1,000 years.


"We are brothers, at last," were the first words Pope Francis addressed to his counterpart, TASS news agency reports. "Now, it will be easier," responded Patriarch Kirill. "It is evident that this meeting is God's will," said the Pontiff, in his native Spanish.

"We are meeting at the right time and at the right place. I want to emphasize once again that it became possible with God's will," Patriarch Kirill told the Pontiff.

The two religious leaders embraced warmly in front of the cameras before proceeding to hold closed-door talks that were expected to last two hours. The Russian Orthodox Church said Patriarch Kirill would discuss the persecution of Christians around the world. Pockets of Christianity in the Middle East have been some of the worst affected by the Arab Spring and the Syrian conflict.


The meeting marked the first encounter between the Pope and the Patriarch in nearly 1,000 years after the Orthodox Church split from Rome.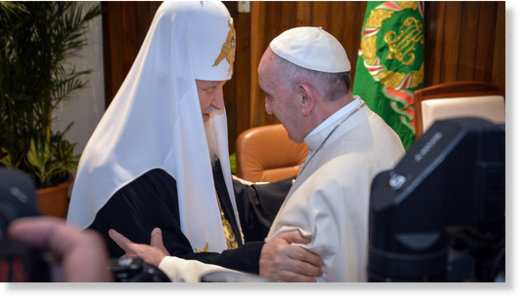 "If people can come together who've been separated for 1,000 years with hostility, even though they believe the same thing – more or less – this is a message that the world is changing, there is hope,"Sarah de Nordwall from Catholic Voices told RT.

"The first thing that all Christians know – Russian Orthodox and Baptist Catholic is the unity that carries a blessing. It is in the spiritual realm that we can really have cause for hope. John Paul II was working really hard for this meeting as well. He always said, 'The church needs to breathe with two lungs – East and West.' And when that happened – the wealth of the Churches would come together – the spiritual wealth, the prayer and fasting and the beauty that inspires us in a Russian pilgrim tradition in the Russian Orthodox Church. We've got to learn from that too. He also called St. Seraphim of Sarov the saint for Catholics as well... St. Seraphim said that the world could expect great things from the Russian soul. He is a Great Russian Saint who still inspires us. When these great traditions come together, something beautiful is definitely going to happen," she said.

Rev. Dr. John Chryssavgis, theological advisor of the Greek Orthodox Archdiocese of America and Archdeacon of the Ecumenical Patriarchate, described the meeting in Cuba as "very significant."



"It is wonderful news, it is welcome news," he said. "It is the first time that the Russian Orthodox Patriarch is meeting with the Roman Catholic Pontiff. Not the first time that the two churches – the Russian Orthodox and Roman Catholic, have come together, but the first time in fact in the history since the Patriarchate of Moscow has been in existence, so since the 16th century. Nonetheless, a very historical moment," he said.

Source:

https://www.rt.com/op-edge/332375-cuba-meeting-orthodox-catholic/

http://www.sott.net/article/312107-Pope-Francis-meets-with-head-of-Russian-Orthodox-Church-for-first-time?utm_content=buffer8c683&utm_medium=social&utm_source=facebook.com&utm_campaign=buffer